The Borneo Post Online
By Yu Ji
KUCHING: It took a staggering 13 hours for Sarah Freda Wilfred Peerok, a teacher, to travel from Miri to Kuching by bus, yesterday.
FREDA (left):
I'm disappointed the conditions have not changed much over the last 20 years.
Arriving just before noon at the Mile 4 express bus terminal here, Freda said: "I was expecting better roads and more rest stops along the way.
"The journey took me 13 hours and I'm disappointed that the conditions have not changed much over the last 20 years.
"I'll gladly pay toll for a faster and safer journey."
Mohamad Basir Kipli, station supervisor for Syarikat Bas Baram, shared a similar sentiment.
He said buses traveLling along the state's trunk road frequently failed to arrive on time.
"It's too slow lah!" Mohamad told thesundaypost at the ticketing counter.
"The bad road means that our customers will not be happy to pay more, despite higher operation cost like expensive fuel and heavy wear and tear."
Enduring 13 hours between Miri and Kuching is not what a fast developing state should be offering.
That's a clear consensus among passengers and industry personnel.
Highway in Malaya (Peninsular Malaysia) financed from the incomes derives
from natural resources of Sarawak such as Petroleum, LNG, Timber, etc.
Comparisons with the roads in Peninsular Malaysia are also inevitable.
For example, Freda felt that development between East and West Malaysia "should be parallel".
"We Sarawakians need to feel that whatever is taken from the state must be worthwhile for us eventually," she said.
Meanwhile, most express bus companies are 'forced' to charge a standard rate of RM80 one-way between Miri and here - for both VIP and standard buses.
VIP buses boast of having fewer seats (because they are bigger) carrying a maximum of 28 people at any one time.
Standard buses can accommodate up to 40 people.
The rates are the same because operators are trying to encourage more people to book tickets earlier.
Operators are not out of their minds; it's just a necessity because of poor infrastructure.
The road that stretches across Sarawak, Brunei and Sabah is the most extensive on Borneo.
Beluru - Lapok - Long Lama trunk road in the Baram Parliamentary Constituency (P220)
and state DUN N66 Marudi which is won by SPDP candidates (BN component party)
Just within Sarawak, the trunk road connects an estimated 5,000 villages, with varying degrees of quality.
The short stretch between Padawan (Mile-10) and Serian is without a doubt the most developed part.
It's common knowledge that long stretches between Sibu-Bintulu and Bintulu-Miri are appalling.
These are where the slowdowns occur.
It's like a bottleneck effect: No matter how fast your car is, you're limited by too few lanes, and pot holes along the way.
An express bus driver, who declined to be named, said Bintulu-Miri is the slowest part of any journey and that his management would advise drivers to slow down.
"It's not just for the passengers' safety, but to minimise repair and maintenance bills," he pointed out.
It seems like the only group of people happy with the trunk road are Indonesians.
"We can't really complain because the roads beyond the border to Pontianak is worse that the one this side," said Julia Goh, who was with her parents.
She accompanies them here every three months for medical treatment.
"Its 10 hours between Kuching and Pontianak, but only 30 minutes to travel by air!" Goh quipped.
"So yes, I believe there is room for improvement; it gets quite boring to spend that much time on the road between places that are not really that far."
To put this into perspective, 13 hours flying will get you from Kuala Lumpur International Airport to London, and 10 hours will get you to Auckland!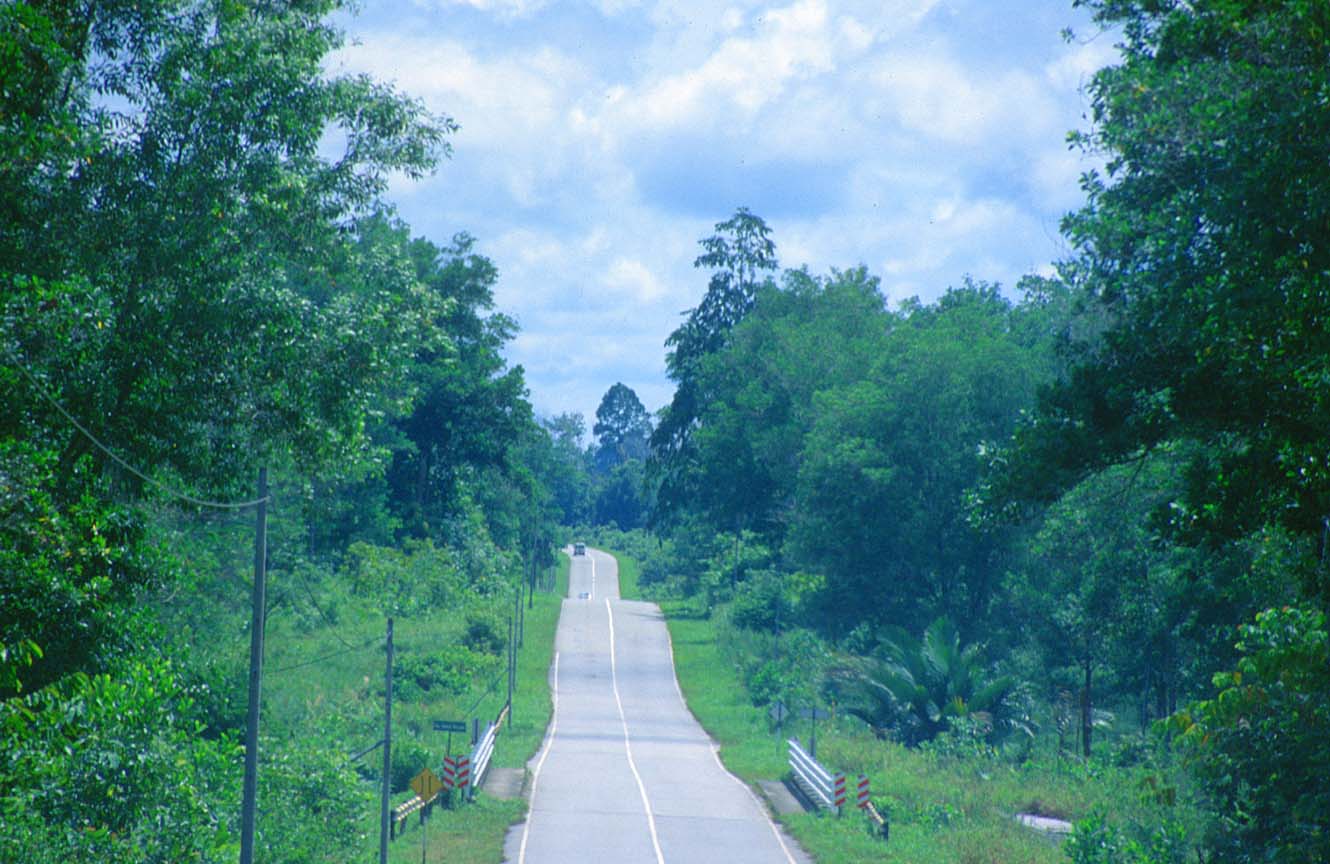 Sarawak Modern Highway which CM Tan Sri Taib Mahmud and his State

Kitchen

Cabinet proud of after 45 years of Independence and being the longest serving
Chief Minister for 26 years...
The difference is quite literally like day and night.
Perhaps a letter to The Borneo Post from Victor James, a Kuching resident, published in yesterday's edition, summed it up best.
"Ask the Deputy Works Minister, who happens to be from Sarawak a SUPP Vice-President
Stampin MP Datuk Yong Khoon Seng
, to travel by road from Kuching to Miri…and ask this question:
Do we deserve this type of road after 45 years and countless contributions the state has made to Malaysia?" James wrote.